At least two dozen books have been written about Prime Minister Narendra Modi over the past 8 years by 'die-hard fans', journalists, and scholars alike.
For anyone who believes Modi does not get due credit, there is an entire library of books — at least two dozen — written over the past eight years that pay glowing tribute to him in his various avatars: organisational genius, foreign policy maven, social justice champion, moral exemplar.
The publishers range from mainstream to niche, and the authors from unabashed admirers to well-known subject experts. Several books have contributions or forewords written by prominent personalities or scholars, national and international. (The foreword of Ambedkar and Modi, for instance, has been contributed by composer-turned-politician Ilaiyaraaja.)
Recent releases among the agglomeration of Modi-focused books include The Architect of the New BJP (Penguin, 2022), written by senior journalist Ajay Singh. It focuses on how Modi's "unmatched organisational skills" transformed the Bharatiya Janata Party (BJP) into "the election-winning machine it is today". The foreword is written by scholar Walter Anderson, a retired professor of South Asian studies at Johns Hopkins University.
Then there's Securing India the Modi Way: Balakot, Anti Satellite Missile Test and More (Bloomsbury, 2019).
Written by Nitin A. Gokhale, a strategic analyst and the founder of the defence-related website BharatShakti, it stresses that Modi has "set new benchmarks" in India's foreign and national security policies. The PM's decisions, Gokhale writes, "have made the world sit up and take notice of a more confident and assured Indian government, not afraid to take potentially risky decisions". Gokhale, incidentally, has also written a biography of the late former defence minister Manohar Parrikar.d
A slew of new releases has come from the BlueKraft Foundation, which describes itself as the "knowledge and technology partner" of several books in the Modi genre, as it were.
These include Ambedkar and Modi, Mann ki Baat: A Social Revolution on Radio, and Exam Warriors, which cites Modi himself as the author and purports to be "a handy guide for students" with tips on yoga and study.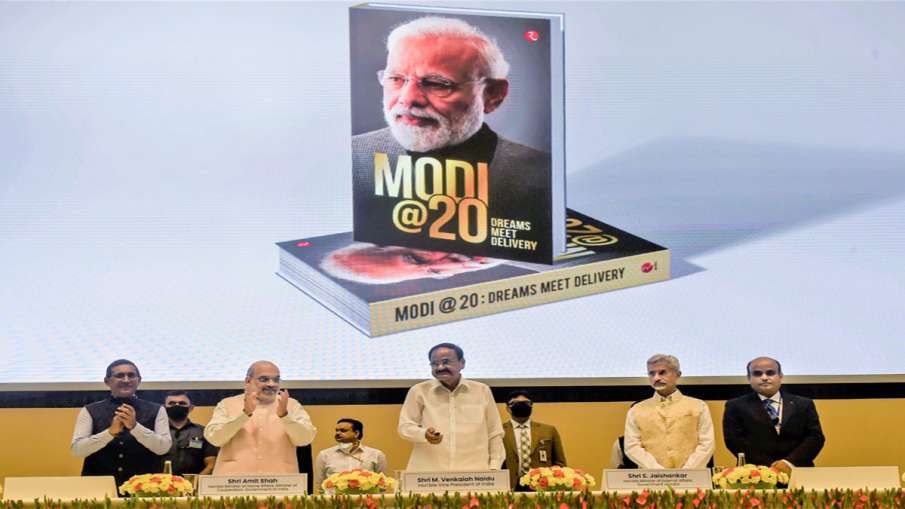 The best-known book of all from this stable is Modi@20: Dreams Meet Delivery, an anthology with chapters authored by 22 eminent personalities, including National Security Adviser Ajit Doval, badminton ace P.V. Sindhu, philanthropist and author Sudha Murthy, and actor Anupam Kher.
There have been launch events for it in several cities, the latest being in New York on 23 September by External Affairs Minister S. Jaishankar (who is also one of the contributors).
Finance Minister Nirmala Sitharaman has extolled Modi@20 as an ideal "management textbook", while Jal Shakti Minister Gajendra Singh Shekhawat compared it to the Bhagavad Gita. When Kerala's Calicut University removed it from its display shelf, the state BJP unit called the institute "pro-Pakistan" (the book is reportedly back on display).