The Netflix series "Scoop," directed by Hansal Mehta is making headlines. The series draws inspiration from the high-profile court case of 2011 involving journalist Jigna Vora. Jigna, who worked for The Asian Age under her colleague and friend Imran, faced accusations in 2011 of collaborating with gangster Chota Rajan in the murder of fellow journalist Jyotirmoy Dey, aka Jaideep Sen.
However, in 2018, Jigna was acquitted of all charges and shared her ordeal in the book "Behind Bars in Byculla." The series, based on Jigna's personal account, revolves around the infamous J Dey murder case, with Karishma Tanna portraying a character named Jagruti Pathak, inspired by Jigna Vora. The show also features Prosenjit in the role of Jaydeb Sen, loosely based on the late journalist J Dey, known for his expertise in organized crime in Mumbai.
Who is Jigna Vora?
Jigna Vora, an Asian Age journalist, emerged as a primary suspect alongside another individual in the murder case of Jyotirmoy Dey, a reporter for Mid-Day. The incident took place on June 11, 2011, in Hiranandani, Powai, where Dey was tragically killed by unidentified attackers while witnesses observed the chilling event. At the time, Vora held the position of deputy bureau chief in the Mumbai Bureau of Asian Age and was 37 years old.
She faced charges alleging that she provided crucial information about Dey, such as his address and motorcycle license plate number, to underworld gangster Chhota Rajan. Despite being accused of orchestrating the murder, Vora was later granted bail by a special MCOCA court.
The film "Scoop," directed by Hansal Mehta, delves into a gripping real-life story inspired by the senior journalist J Dey, portrayed by Prosenjit Chatterjee, involving the intricate dynamics among the media, underworld, and Mumbai police. In her relentless pursuit of a front-page story, the character Jagriti Pathak (played by Karishma Tanna) unknowingly plunges into the treacherous depths of Mumbai's criminal underworld. Along the way, she forms unexpected alliances with influential figures in the police force, legal professionals, and the mafia.
Also Read: Scoop: Who is the real life JCP Shroff played by Harman Baweja
Who was Jyotirmoy Dey?
Jyotirmoy Dey, an Indian journalist renowned for his expertise on the Mumbai underworld, served as the crime and investigations editor for the Mumbai-based tabloid Midday. He initially began his career with Hindustan Times, covering stories on wildlife and conflicts between humans and animals at Borivali National Park. Dey authored two books focusing on the Indian underworld, namely "Zero Dial: The Dangerous World of Informers" and "Khallas." Throughout his career, he extensively reported on underworld figures such as Dawood Ibrahim and Chhota Rajan.
Murder and a Dubious Arrest!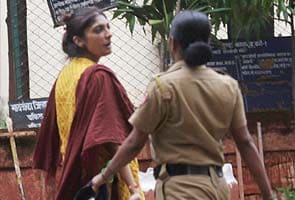 The tragic assassination of Dey took place on June 11, 2011, at Hiranandani Park, Powai. He was fatally shot at 3 pm by four unidentified assailants, sustaining nine exit wounds on his body. Dey was pronounced dead at Hiranandani Hospital. The case was subsequently handed over to the Crime Branch in Mumbai, and after 16 days of investigation, they claimed to have solved the case. Several suspects associated with Rajan's gang, known as Nana Company, were arrested from various cities across the country.
On February 21, 2012, journalist Jigna Vora was charged under the Maharashtra Control of Organized Crime Act (MCOCA) in connection with the assassination. The police alleged that Vora had provided Chhota Rajan with Dey's address and motorcycle license plate number. They also claimed that the professional rivalry between Vora and Dey was the motive behind the murder. However, after a span of seven years, Vora was acquitted due to insufficient evidence.
Why was Jyotirmoy Dey killed?
The murder of Sen had a hidden motive, aimed at concealing a shocking revelation: the secret collusion between the Mumbai Police and the notorious underworld figure, Dawood Ibrahim. Imran, who shared Sen's call records with Pathak, exposed a disturbing truth—two associates of Chhota Rajan were being trained by the Intelligence Bureau to carry out an assassination on Dawood. This revelation unveiled the deep-seated corruption within the system.
Also Read: Scoop: What's the Police-Underworld Nexus theory that framed Jigna Vora's arrest 
When Pratap Acharya, the Commissioner of Police at the time and currently a leader of the ruling party, learned about the imminent threat to Dawood's life, he assigned Deputy Commissioner of Police Ramesh Malik to apprehend the potential assassins. Sen, who had discovered the intricate conspiracy during his time in Europe and verified its authenticity, became a liability. Those involved became aware of Sen's knowledge and saw him as a threat, leading them to silence him permanently.
Pathak, due to her connections and vulnerability, was deliberately chosen as the ideal scapegoat to divert attention from the true culprits. Her involvement in organized crime and her experiences as a journalist had soured her perception of the profession she once cherished.
The Netflix series also starring Harman Baweja, Mohhamad Zeeshan Ayyub, Prosenjit Chatterjee, Karishma Tanna, Deven Bhojani, and Inayat Sood among others, is streaming on Netflix.